April 1, 2016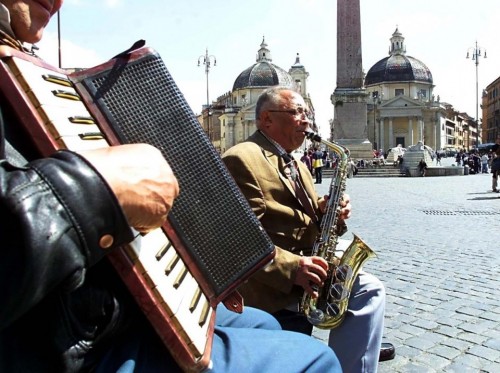 Street music in Rome
the soundtrack making your stay more pleasant
When you walk along the streets or in the most famous piazzas of Rome, you can hear the sound of music like a nice background noise to the appreciation of the past. Apparently it sounds like discordant as it is hard to connect the modern music you hear with the landscape you're looking at, but the music panorama offered by the offhand or talented artist is so varied that at the end is so nice to involve another sense in the enjoyment of the city.
As the eyes are overwhelmed by the beauty of Ancient Rome, the ears can be as well cradled by the sounds of the modern musical instruments. Ok you can say, it would be more appropriate to ear a lyre player performing at the forum or a cembalo player outside of a church, but probably time is not ready, at least in Italy, for this sensibility and presentation of the past.
But, on the other hand, it is also true that music of all times, since the moment when men discovered how to create sound from what they had available in nature, was created to delight, have fun, and you will easily forget the apparently inappropriate sound of an electric guitar if THAT sound is great!
For this reason, especially the american tourists can feel like at home, with the proper proportions!!, listening to some very talented guys performing the blues. It is extraordinary what music can do.. the sound of the blues, the power of music travels with the people; for the same musicians, performing the blues is like traveling with their imagination and putting on stage a sort of a cultural exchange through their notes.. A lot of tourists are always impressed by the quantity of international music they hear in Rome.. definitely it is true! We're not famous around the world for our pop music except for 2 or 3 names so we're eager to listen to the foreign music invading our cities.
but there's something for all tastes!! gipsies playing their involving, full of rhythm melodies, the nostalgia of the classical italian music with O sole mio, the lyric singers making flash mobs in front of restaurants to let the tourists enjoy the meal..
there's something to say, they don't do it for free but, you know what, consider those 50 cent or 1 euro as the price to pay to have a live concert with an incredible scenery: the eternal city!