March 24, 2016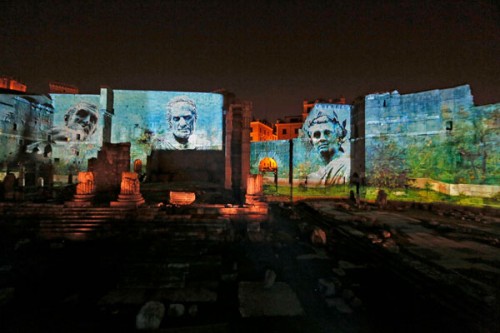 Museology in Rome
Mine doesn't want to be a critical article towards the city but on the contrary an encouragement to better take advantage of the goldmine we have under our feet! It is a historical inheritance probably rooting in very ancient times and something in our DNA of italians to underestimate the beauty of our country. The most striking example is the Mona Lisa that we complain to have been wrongly deducted by the French and instead regularly sold to the king of France by an old and probably depreciated by the italians, Leonardo.. and we still eat our hands!!
This dangerous growing disinterest clearly has a more visible impact in Rome where, thanks to concentration of great historical-artistic interest areas as well as UNESCO heritage sites, the whole is even more evident.
If you go to the Forum or to the Palatine Hill, you won't find any explanatory panels, graphic restitution of the monuments, suggested itineraries, but the whole is left to chance for a visit that almost sounds like those of the nineteenth century, as a grand tour to admire the "ruins", a word of charm and evoking times and atmospheres gone because now outdated.
It 's time to live history and not just remember it, now we have no more excuses, technology provides us with endless resources and we have the moral duty to pay the right tribute and to show the proper gratitude to history so deeply marking our landscapes, designing and making them unique!
Well, I'm not inventing anything, I'm not a crazy visionary forerunner of unexplored feelings, simply step outside and learn from others. In England museology, the science studying the way you present and promote the past, gives us the tools to help transforming our city, with its unique potential, in an open-air museum.
We must therefore encourage pilot projects already started some years ago, like to restore luster to the Forum of Augustus with the holograms in the evening, but let's extend this sample area to the entire republican Forum. Imagine in the evening, when darkness falls, recreating the missing parts of the monuments with the light and give life to our glorious past .. or the thrill of entering the Forum and suddenly see an actor in the guise of Mark Antony revive the speech he did about Julius Caesar or attend a reenacted performance of Cicero in his role as a lawyer defending one of his clients into the Forum, and so transform the square into a stage.
what are we waiting for???