July 31, 2016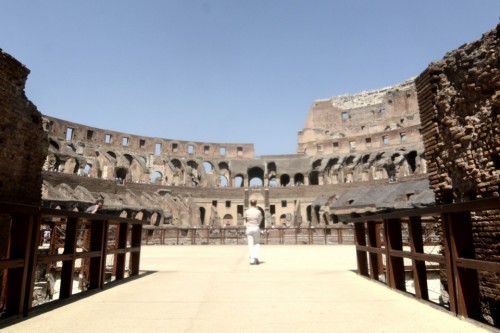 Like a gladiator!
new VIP entrance at the Colosseum
The experimentation of the opening of a third entrance to the coliseum has started on July 15th and will last until October 31st. The measure is meant to reduce the flow of visitors at the entrance of the Flavian Amphitheatre and the Roman Forum-Palatine, maintaining the existing safety standards. The results of the test will contribute to improve the ticketing service.
The expected benefits are: streamlining the queues on the square of the Colosseum, offering an alternative tour itinerary, more fluidity the new route will allow and prevent tourist complaints' by making the wait less uncomfortable especially in the hot summer days.
It is estimated in about 1800/2400 entrances more, depending on seasonal opening times of the amphitheater.
Current security regulations allow up to 3,250 visitors at once inside the monument: groups up to 50 people can access from the third entrance going from a dark tunnel to bright light into the elliptical combat area. Gladiator effect! Visitors will be accompanied by guides along the ring overlooking the underground levels for a maximum duration of 20 minutes after which they can choose to continue the regular visit or exit the monument.
The intention is to give the public a new and higher emotional impact: who will enter the Coliseum from this new gate will remember it for a lifetime. The entrance of the new access will bring visitors directly on the Arena, making them feel like gladiators of the third millennium. Another intense way to experience the building, if desired, in a shorter time.
Although the tour route will be shorter, its uniqueness lies in immediately find themselves immersed in the heart of the amphitheater giving the visitors the chance to take home a very strong emotion. The new gate will hurl you in the center of the arena.. a thrill beyond compare.
The Colosseum so far only Maximus Decimus Meridius and gladiators experienced! Since July 15 not only those about to die, but even the mere mortals can live the same incredible experience.